YetiMa Mangalmaya Flight, BumperMa Jitau Naya Ride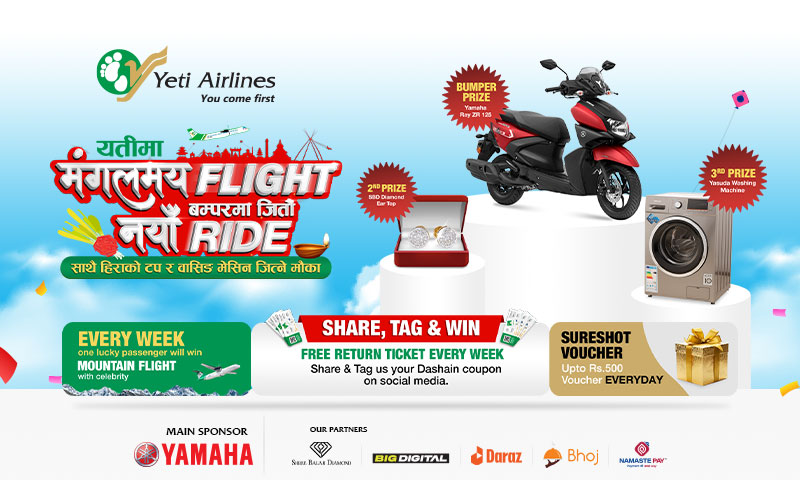 We are pleased to announce our Dashain, Tihar & Chhath Campaign "YetiMa Mangalmaya Flight, BumperMa Jitau Naya Ride", starting from September 26, 2022, to add more excitement to this festive season for our valued passengers. The purpose behind this campaign is to appreciate the love, support and trust that passengers have shown towards Yeti Airlines since 1998. We are planning to give bumper prizes to our passengers who travel with Yeti Airlines during this campaign period through a lucky draw.
1. Participants
In order to participate in the Campaign, you must be 16 years old or above, must be staying in Nepal during the campaign period, and have to fly with Yeti Airlines. Participation is forbidden for employees of Yeti Airlines (including FOC; SOD).
2. Entries to the Campaign
Entry to the campaign is valid when the participant flies with Yeti Airlines between September 26, 2022 to November 11, 2022. We assume no responsibility for Entries due to a cancellation or refund or any technical error or malfunction while ticket booking.

3. Winners and Prizes
At the end of this campaign, Yeti Airlines will hold a lucky draw between all the Passengers flying with Yeti during the campaign, i.e., September 26, 2022 to November 11, 2022; the bumper prize winner will be awarded Yamaha Ray ZR 125 Scooter, the second and third prize winner will be awarded SBD Diamond Ear Top and Yasuda Washing Machine from Shree Balaji Diamond and Big Digital respectively.
No cash alternative to the Prizes will be offered. The Prizes are offered on a 'NO EXCHANGE', NO REFUND' basis and are not transferable.

Winners will be announced within 15 days from the end of the campaign on Yeti Airline's Facebook Page. If a winner cannot be contacted, is not eligible, or does not claim the Prize within 7 days of notification, we reserve the right to withdraw the prizes from the Winner and select a replacement Winner instead.
Winners shall pay a 25% tax amount as per the rules of the Government of Nepal.
Winners shall show a Boarding pass along with a Dashain coupon while claiming the prize.

Yeti Airlines' decisions on all matters involving the campaign will be final.
Sure shot Prizes
Passengers may also enter for sure shot prizes in addition to bumper prizes. Sure shot prizes will be a gift or discount vouchers worth up to Rs. 500 and Rs. 200 from Daraz, Bhoj deals and Namaste Pay respectively. Participation requires connecting through the Yeti Mob app, follow 5 simple steps to win a sure shot prize:
1. Scan QR code,
2. Download & Register Yeti Mobile App,
3. Click on the "Dashain Campaign Banner" to fill in your details and submit,
4. Claim your Preferred Voucher and get a discount voucher code via SMS,
5. Redeem your voucher code while making the order.
Free Mountain Flight with a celebrity
Free tickets will be given away each week to a lucky winner. All you have to do is fly with Yeti Airlines.
Share, Tag & Win a free Return Ticket
Each week a lucky winner will get a chance to win a return ticket as well. Passengers must share Dashain Coupons and tag Yeti Airlines on Facebook and Instagram.
Viber Sticker Download Campaign
Yeti's Viber Sticker Pack "Yetiko Udan" has officially launched on Viber. Now, you can enjoy your conversations with extra fun. Download Yeti Sticker Pack for free and get a chance to win round trip tickets, every week. You can win by downloading the "YetiKo Udan" sticker pack from your Viber sticker market. Every downloader will be eligible for the lucky draw.
First Prize: Mountain Flight
Second Prize: Ktm-Bhairahawa-Ktm
Third Prize: Ktm-Pokhara-Ktm
Fourth Prize: Ktm-Janakpur-Ktm